BA and Emirates
Melbourne, Australia
---
This is me chilling in my trackie dacks provided by British Airways first class on the way out of Australia. The plane was so old I am surprised it even was able to fly, service was the usual BA quality - CRAP lol. They just do not even try, no breakfast that was diary free and they just did not care.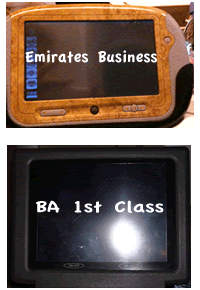 I just came back with Emirates Business class and I could not help noticing that the remote control for the entertainment system on Emirates was bigger than the TV screens on British Airways, i watched 8 out of 10 episodes of The Pacific and I have spent this afternoon watching the end I missed on the plane. BA do not even have a lounge in Hong Kong and have to share the Qantas lounge but it had no food in it, Emirates lounge in Dubai and Manchester had a full buffer laid on.
I had a very strange woman next to me who talked in her sleep and then was convinced we had stopped to refuel when we flying over the sea. She kept tapping me to show me outside the window but it was night and you could not see anything.
I was very impressed with the efficiency and friendliness of Manchester security and for once it was stress free from door to door and the main objective is to deliver you to your destination alive and in one piece which both airlines did successfully.