La Creperi
Marbella, Spain
---
I arrived in Spain on Sunday night after an eventful afternoon with Monarch. I had an inclination that the day was going to be chaotic when I received a text message whilst queuing to check in saying the flight was going to be 35 minutes delayed but when I checked in she thought it was only 15 minutes.
The 35 minutes passed and then we were told more information would be given in one hour. That hour passed and the staff went home as there shift had finished.
The next people to take over were not as calm and well informed and they soon lost control of the situation with people screaming at them. There was a young lad trying to contain a plane full of irate passengers with children.
I was happily sat in the corner watching the tennis on my iPhone, there was nothing to gain by joining the mob. Then we were told the plane was completely broke and we would have to move to another plane. When we were sat on the second airplane they informed us that they were told that no bags were loaded onto the first airplane but it turned out 50 bags were missing.
We then had to get the bags off the first plane which meant we missed our slot to take off and had to wait longer. I started to fall asleep, it had been a long day and I was happy that I was finally in my seat.
Some time after 5 hours delayed we took over and headed to Spain and thankfully my bag was one of the first off and we got to our place just before midnight thanks to a speedy driver.
One of the first meals I eat when I come to Spain is a visit to La Crêperi to have a crepe. This is a banana, chocolate and ice cream crepe. I did order banana, chocolate and sugar but I was so hungry and it looked so good I took it and ate it all.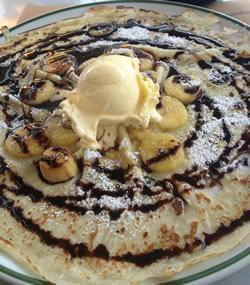 Chocolate Banana Ice Cream Crepe