I went for an amazing dinner last night at a restaurant called Sala in Koh Samui on Choeng Mon beach. They describe it as not just a meal but a journey of flavours and culinary creations from around the world and it is definitely worth a visit or two.
Immediately upon entering the restaurant you feel the calm from the relaxing and peaceful ambience with the pool and beach front. The waves are crashing against the shore as you relax on an oversized seat. The staff are all dressed very smart and are very professional. They even understand the concept of courses as most restaurants here bring your starter with your main.
I decided to try the seven course tasting menu which would give me a good opportunity to try lots of dishes. It was an amazing meal, my only gripe was it took so long. They gave us each a complimentary starter which my friend did not want so seven courses became nine.
They did come and ask me which course should they serve my friends meal as she only had one course and I had seven.
My highlights of the meal were the crisp braised lamb shoulder croquette and the chocolate fondant with vanilla ice cream.
The top picture is from my lunch at another peaceful resort and the bottom is from Sala.
I had a fish burgar with smoked salmon for lunch which was lovely. The best day for food so far this year, may this year continue as it started, food wise not work wise.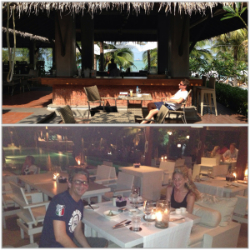 Sala