I have moved to tranquil Maenam Beach in Koh Samui. It is a long stretch of fine golden sand and sparkling waters. I am staying at Samui Buri Beach Resort which is a stunning traditional Thai ambience and tropical landscape located directly on the beach. I have a great room with a pool going past my room, I will post a picture of it for you to see.
There is an infinity pool but I have been on the beach sitting on oversized chairs and getting food and drink delivered to me throughout the day. They have a gym which overlooks the beach so they can watch all the lazy people.
I am off now to have dinner on the beach, last night was Italian night so I will probably have Thai tonight.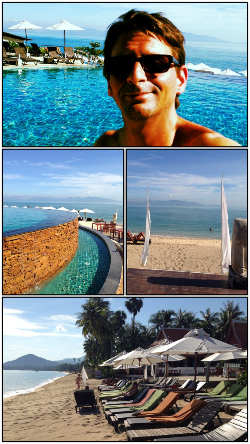 samui buri hotel