I have been driven to the bottle, and not only drinking but drinking and smoking on the streets of Melbourne like a true Aussie. Friday I had three leaving parties and one welcome party with a double booking at one point.
Normally I don't attend the drinks but as I missed last weeks drinks I was determined not to miss this one as I rarely see anyone who I used to work with anymore. The weather was lovely and warm which always makes the drink go down easier.
This picture is me pre wedding haircut, on Saturday I had my wedding haircut for my brothers wedding in England.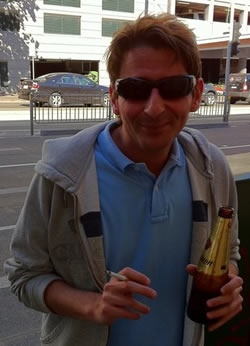 drinking on the streets of melbourne