This weekend was my cousins wedding in Manchester and it was the main reason I flew back from Australia. It was a weekend that did not disappoint and was worth every penny spent coming back to England.
My nephew was a pageboy and he looked so adorable in his dinner suit and when he walked down the aisle he had a top hat on and all he was missing was a cane to complete the outfit.
My cousin looked stunning which is not very unusual, we had to check her finances birth certificate several times to verify his age. I still think he is only eleven but the morning after he had been married for less than twelve hours he was already ageing and looked at least fifteen.
I had an amazing night and I stayed over at the hotel and had my nephew in my room at two in the morning pretending to iron my clothes for the next day. Before you ask NO it was not plugged in.
I was fortunate to spend the weekend celebrating with all my family including my cousins, siblings, parents, grandparents etc.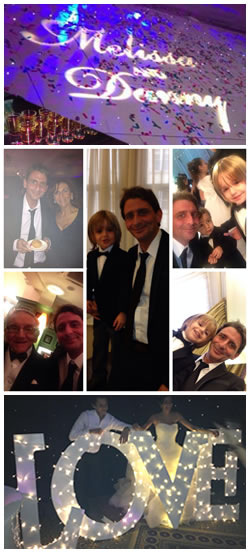 Melissa Donn and Danny Bloom