I have been back in Manchester for just over a week and this weekend was a stunner, both weather and food was amazing and I even managed to find someone as ill over sunbaking as me.
The past three days in Manchester have been sunny, yes I said sunny so I have been sat out in the sun chilling and eating cakes and basically anything I can get my hands on. The ice cream man comes up the street and we are all running across the road for a 99 flake.
On Saturday I was invited to the neighbours house, or I invited myself for a lunchtime BBQ and ended up staying for afternoon tea and relaxing in the garden soaking up the rays.
Today was more of the same, I have managed to finally find a nice cafe down the road for breakfast. I did attempt to get a McDonalds after trying one of the new bagels in Australia but it was did not even resemble food over here.
In Australia we get a bagel with a runny fried egg, avocado and fresh tomato but Whitefield is not ready for that and they served me a rubber egg that resembled a piece of cheese.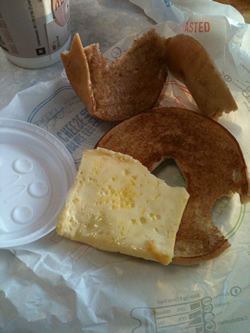 McDonalds breakfast bagel