I went to London yesterday to see my nephew, Frankie and I was only planning being down there for a few hours as I wanted to be back before 7PM so I could eat and pack ready to go back to Leeds.
I was sat on the Virgin train from London for 45 minutes with them continually telling us that there will be a short delay. Then they announced that all trains had been cancelled due to a power failure, which later turned out to be that someone had committed suicide.
I had just paid 8 pound for wi-fi and then I was slung off the train. As I was getting off the train my sister was coming into the station to get her train which was due to leave one hour after mine but I was still there.
We both had to walk to Pancras Train Station and squeeze onto a train to Sheffield and then wait for another train from there to Manchester. I was supposed to get home for 6 PM and instead I got home four hours later.
My parents were on a later train and of course we told them what was going on but when they called Euston Train Station they said everything was running on time. I do not know what they thought lying would achieve but they did it anyway.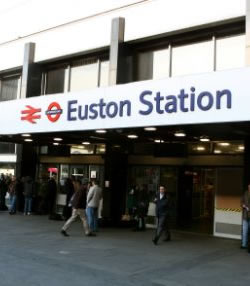 Euston Train Station Delays