I went to Nine Mile which is a village situated high in the mountains on the beautiful island of Jamaica. Nine Mile is located in Saint Ann Parish, a few miles south of Brown's Town. It is here, on February 6, 1945 the legendary king of reggae, Bob Marley, was born and it is in this very same place that he was laid to rest.
To get to Nine Mile takes about 90 minutes but you get to see lots of villages and the real Jamaica along the way so it is worth keeping your eyes open.
The tour starts at the family's house where the family's history began. Many of Bob's close family still live there, including his mother, affectionately known as Mother B and Uncle Lloyd her brother, who tells tales of Bob's childhood.
The Bob Marley Mausoleum tour takes you through the house Bob lived in as a young boy, and your Rastafarian guide shares with you little known insights into Bob Marley's childhood and musical career.
You get to stand on 'Mount Zion Rock' where Bob used to meditate and rest his head on "the pillow" made famous in the song "Talking Blues". Finally, you get to walk through the mausoleum, which is the final resting place of the Reggae King. You also see the Fireside where Young Bob Marley cooked his meals as depicted in the song No Woman no cry quote "we would cook cornmeal porridge of which I share with you".
When the guides stopped to explain how places were mentioned in his songs they sang a bit of them and the kids who had climbed the trees to see inside the compound burst into a chorus of Bob Marley songs.
His body lies buried in an oblong marble mausoleum inside a tiny church of traditional Ethiopian design, he is buried above the ground. There are two mausoleums on the property. The first entered is Mama Marley's. The second entombs Marley as well as his half-brother. Bob's crypt is on the top, and his brother lies in a tomb stacked below him. It was Mama Marley's wish that the brothers be buried together.
The tour is a must see when you come visit Jamaica and I highly recommend taking a private driver rather than a tour bus. This is a picture of me stood next to Bob Marley's single bed in his house.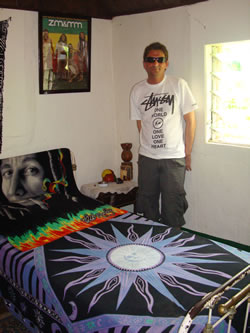 nine mile,bob marley