I went to Amsterdam in the Netherlands to see Manchester City play Amsterdamsche Football Club Ajax, or as we know them just as Ajax Amsterdam.
The game was boring, the team did not perform and as such we lost by three goals to one which almost guarantees that we will not progress out of the group stage for the second year running.
I stayed at the DoubleTree and they gave me a lovely room with a nice long balcony of a view over the city. It was nicely located near the train station which I used to get to the airport and the football match.

I managed to stay away from the trouble there and had a nice relaxing two days, the weather stayed dry and even the sun came out for a bit.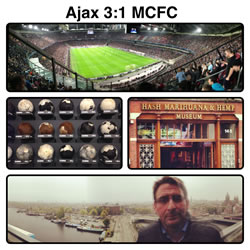 AJAX,manchester city,mcfc,champions league