I am in Phuket which is a lot busier than Koh Lanta and is full of tourists. The sound of Russian fills the airwaves and you can barely hear the sea over them. It is very busy and the rows of deck chairs along the entire stretch of the beach ruins the view, the umbrellas do not even match.
The top picture is from Karon beach in Phuket which is just opposite Phuket Football Club. I could live with the beach in the morning and crossing the road for a 3pm kick off.
The bottom picture is from outside my hotel on Rawai beach in the evening when the pavements transform into extensions of the restaurants on the opposite side of the road.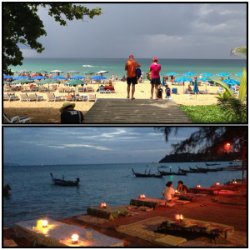 karon beach and Rawai beach