I have left Samui Buri Beach Resort on Koh Samui to head back to Bangkok as my suitcase is there and I desperately need some clothes. The last cleaner I dropped them off at ruined them. It was my own fault for waiting until the last minute and then the good cleaner could not take anymore. 60THB a kilo for my friend Matt.
I am also getting bored and I miss my macbook pro which is in Bangkok. I also feel after a four week holiday it is now time to update my CV, change my LinkedIn status and start looking for some work.
I have had a lovely time here on Maenam Beach which gets the sun for longer as it is not being sheltered by trees like Choeng Mon Beach. The chairs on the beach are so comfy and oversized so you can stretch out and turn.
The food in the restaurant could be a lot better but the staff are very helpful. The rooms are very good, I have a swimming pool outside my room for me to take a dip.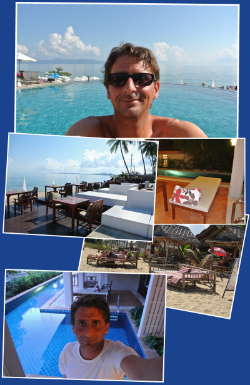 samui buri hotel