Night two of Melbourne White Night 2019 and tonight I am aiming to visit The Treasury Gardens and then Carlton Gardens which will leave me the library and anything I want to see again on the final night.
The Treasury Gardens will promised to engage your senses: sight, sound, smell, taste and touch.
It has been Inspired by the environment and the elements, science and technology converge and emerge as art. An exploration of the senses through art installations; visual and auditory experiences immersive and expansive, as edifying as they are engaging.
Some are the installations I got to see were below.
Michael Pinsky's Pollution Pods
In partnership with Science Gallery Melbourne, White Night Reimagined presents British artist Michael Pinsky's Pollution Pods.
Five large domes represent polluted environments of cities globally. Start your journey in Tautra in Norway, breathing in clean smelling air and then continuing through to the cities of London, New Delhi, Beijing and São Paulo which between them suffer from some of the lowest air quality in the world.
Each pod replicates these polluted environments which contain varying levels of ozone, particulate matter, nitrogen dioxide, sulphur dioxide and carbon monoxide.
Cluster by Playmodes Studio
Cluster is an immersive audiovisual installation which explores relationships between space, time and perception through the abstract language of light and sound.
The audiovisual experience is generated in real time through custom software created by the artists – a balanced mix of mathematics, music and artistic expression. A stream of data is fed through oscillator banks to create an image which is then pixel-mapped onto digital LED bars set within Treasury Gardens. The same data image is also used to generate sound through a sonification engine that analyses the intensity of the light.
Cocoon by Amigo & Amigo
The Cocoon is a portal to help facilitate connection and growth, and a reminder that we are not alone - we are always surrounded by people and possibilities.
Contribute your heartbeat to the external lights, or be adventurous and crawl inside of the Cocoon, allowing yourself to be held in its immersive, floating embrace. Sit, surrounded by a symphony of heartbeats collected from friends, family and strangers. Relax, recline, and rebuild yourself inside the safety and energy of this beautifully woven form. Take your time to absorb the living, animated pulses flowing up and around you into the heart of the Cocoon. When you are ready, emerge transformed.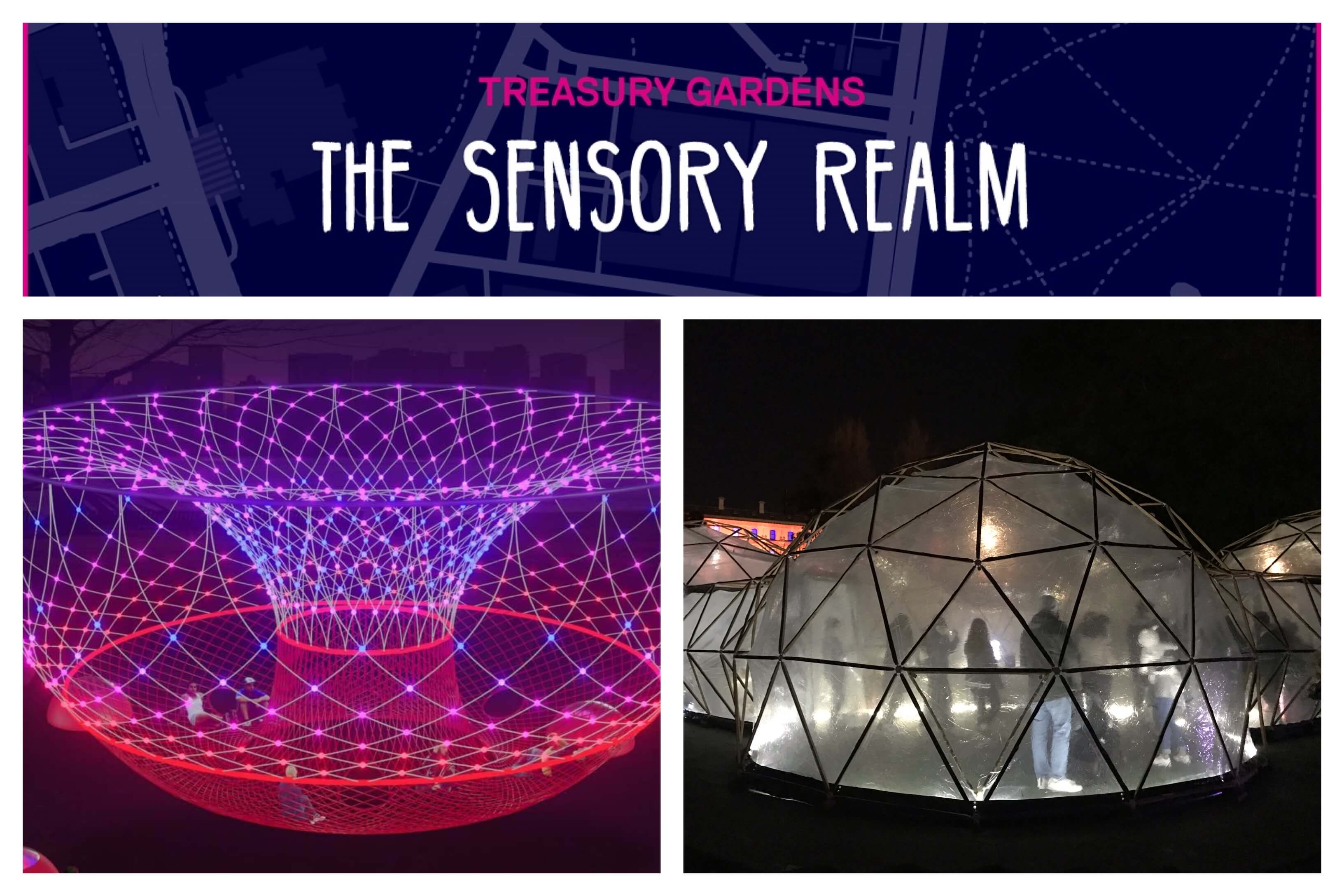 White Night Melbourne 2019 The Sensory Realm