My dishwasher finally got fixed today 19 days after I first discovered it was broke and it has been hard. I have had broken air con, dryers, ovens, washing machines but this was without any doubt the one appliance I can not live without.
The weather here is improving ever day and I have just woken up from my after work sleep in the sun. I should not have sat down in the sun today as I was supposed to be in the CBD having farewell drinks but once again I have bailed.
My next engagement is Tuesday for a BBQ as it is a public holiday here for the Melbourne Cup which is a horse race that stops the nation.
All my plates are now clean and tomorrow I can try and get some vegetables inside me and start to eat healthy again as three weeks of takeaways have made me so ill. I now have three weeks to try and get better for my trip back to England.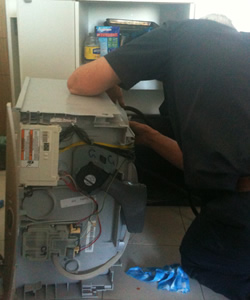 Dishwasher Repair Man