I have just had dinner at the Samui Buri restaurant on the beach and tonight was BBQ night and a fire show. BBQ Thai does not really work, I mean how do you stop the noodles and rice from falling onto the coals below.
The food was decent enough, I have had worse meals there so I am not complaining. I had enough deserts to get my monies worth and the fire show was a bonus.
I had just finished my desert and the lights went off and on the beach in front of me appeared a man holding two balls of fire in his hands. Over the next hour we were entertained by himself and his partner to a spectacle of fire displays and at one point he did catch himself in the face which looked painful.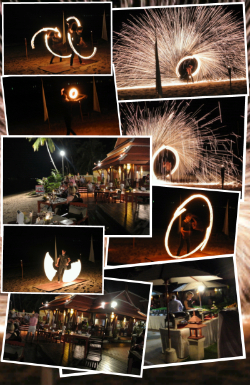 samui buri hotel Fire Show BBQ night