I left Service Stream on Wednesday after working there for nearly 4 years. It was a strange farewell, none of the new management came to say goodbye or even send an email so when it came to 4pm and time for me to leave I just picked up my bag and left.
We then headed to the pub for a few drinks and some dinner which was my unofficial leaving party which was arranged by some of my friends so I did get the chance to say goodbye to the people that matter but some were missed. I had my big drinks a few weeks ago with Ivan when he left.
I really enjoyed working with ACMA and that was without doubt the best part of my job. I am still packing up my flat but I will update later with that.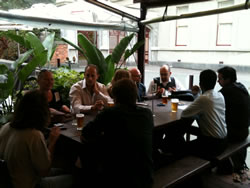 Service Stream Leaving Drinks